3 Days to help prepare for your best season ever!
You are invited to join the Fielder's Choice staff for our 3-day Overall Skills Camp this Spring Break. Campers have the option for a morning or afternoon session to receive baseball instruction from our leading trainers. We cover all facets of the game in a fun and stimulating environment. 
Limited Space available – register today!
Ages: 7-12
Dates: 3/26-3/28
Where: Fielder's Choice (Indoor Facility) 37307 E Richardson Ln Purcellville, VA
Session I: 10:00am – 12:00pm – REGISTER HERE 
Session II: 1:00pm-3:00pm- REGISTER HERE 
$99 per session

18 players max per session
Instructional Breakdown
Hitting- Stance/Setup, Load & Stride, Vison & Timing, Improve Bat Speed and Power
Fielding- Players choose their position and we break down infield, outfield and catching techniques
Pitching- Introduction to the 5 steps in the pitching delivery
Baserunning- Learn ways to become a complete player!
Equipment:  bring a glove, bat, helmet and wear sneakers and athletic clothing.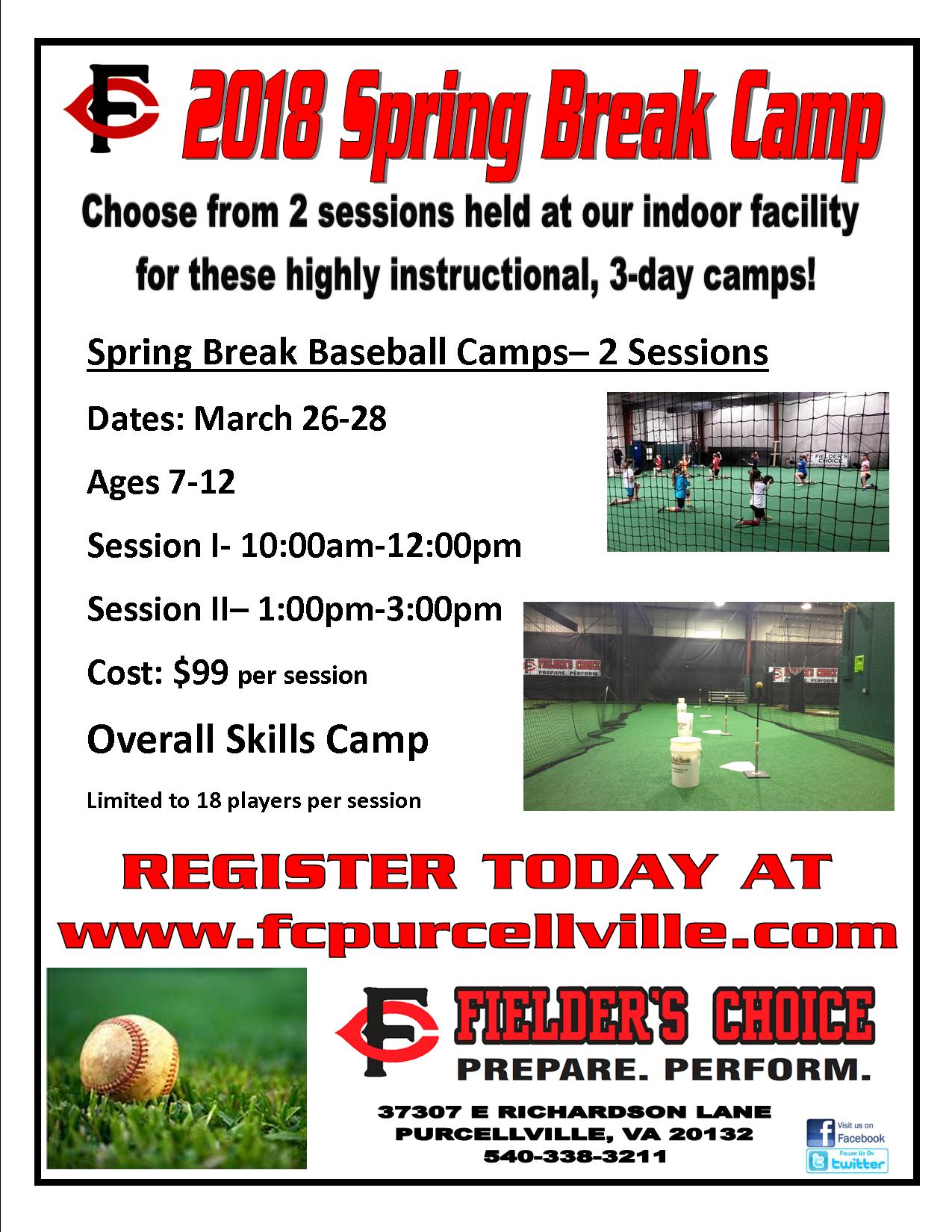 Refund Policy
Fielder's Choice offers a full refund for cancellations made more than one week prior to the event.  Cancellations made less than one week prior to the start date will result in a credit toward any other camp or clinic at Fielder's Choice. There are no make-ups, credits or refunds due to player absences or cancellations after the event begins. We will make every effort to reschedule, but cannot guarantee that weather related interruptions or closures will result in a make-up.  Fielder's Choice reserves the right to cancel each event.